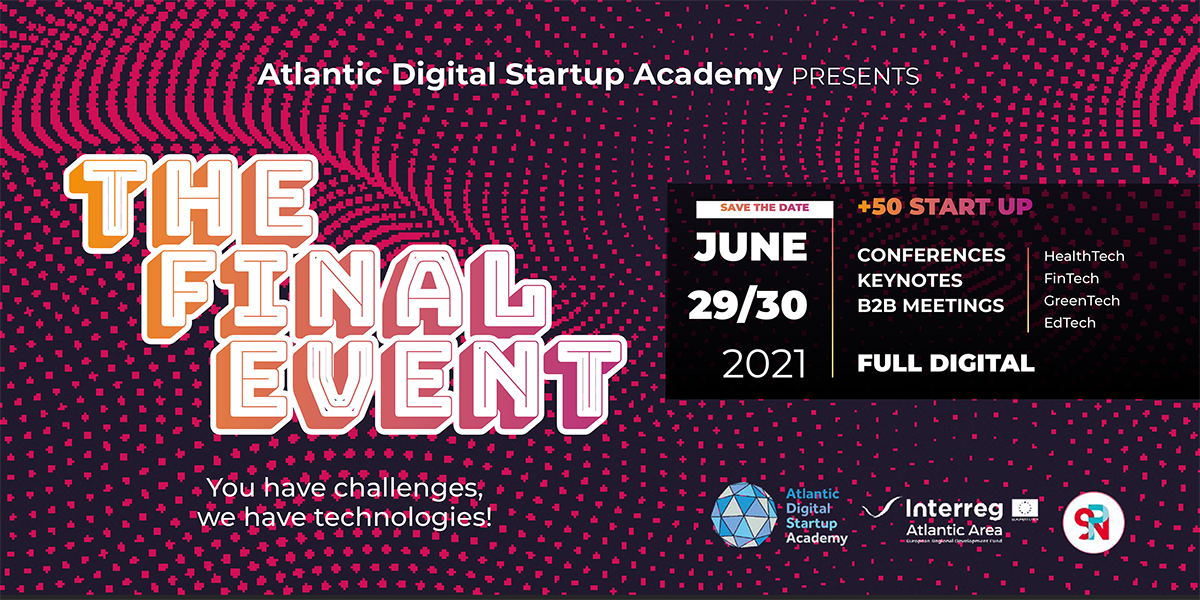 Détails :
The ADSA final event is a 100 % online event gathering stakeholders from France, Spain, Portugal, Ireland and the UK.
The event will be held on 29th and 30th of June 2021. It will be divided into two parts:
High quality conferences
B2B meetings
The ADSA final event will help digital startups to develop partnerships with stakeholders (clients, research & technological partner, distributor…) from the Atlantic area.
The participating stakeholders will have the opportunity to network with European digital startups offering solutions to answer their challenges related to digital transition. It is also an opportunity to partner with digital startups to develop collaborative research and innovation projects.
Who will participate in the B2B meetings ?
Large/midcap companies, research organisations, public authorities or any other organisations from one of the 4 main sectors with needs that could be answered by digital startups
Start-ups from the Atlantic area who can provide digital/innovative solutions to potential clients/partners (e.g. Artificial Intelligence, digital twin, robotics, cybersecurity…)
Investors from the Atlantic area willing to invest in digital start-ups
AGENDA OF THE DAY :
10:00 – 10:35 AM : What is Atlantic Digital Startup Academy (ADSA) ?
Speakers : Pauline Presse (TBI), Ruben Carrandi (EBN), Anna Downes (Video Sherpa), José Racero (Omnium Lab), Jean-François Le Cloarec (E-Learning Touch')
10:40 – 11:10 AM : What opportunities for the digital industry in the new EU funding programmes ?
Speakers : Armand Nachef
(French Ministry of Higher Education, Research and Innovation), Isabel MOREIRA DA SILVA (Interreg Atlantic Area)
11:15 – 12:00 PM : Innovative Startups in Healthtech sector
Speakers : Tomas Thompson
(Rockfield Medical), Joana Carrilho
(EIT Health), Manuel Escobar
(Healthy Blue Bits), Olivier Menut
(OSO-AI), Luis Filipe Antunes (Healthy Systems)
12:15 – 1:00 PM : Going international in Fintech – Opportunities and Challenges Post Covid
Speakers : Conor Lyden
(Trustap), Colm Lyon (Fire.com), Damien Guillaumond (Paymount), Ollie Walsh (Pipit Global)
2:00 – 2:45 PM : How GreenTech startups disrupt the industry sector
Speakers : Lucía Díaz (Andalusian Knowledge Agency), Julien Charles (Seven Shapes), Pilar Zapata Aranda (BIOAZUL S.L.), Raymond Alcorn (Exceedence Ltd)
3:20 – 4:00 PM : EdTech : A specific strategy to succeed (internationally)
Speakers : Anaïs Salson (EdTech coach & consultant), Sonia Levy-Odier (Skill&You), Donagh Kiernan (Tenego Academy), Alejandro P. Waudby (WET EDUGAMES)